How to Build a Real Estate Photography Portfolio
Congratulations! You've decided to become a Professional Real Estate Photographer. You've purchased the gear, you've watched a few tutorials, and you're ready to get out there and create some beautiful images for your future clients.
Now, you just need to figure out how to build a real estate photography portfolio. Below, you'll find a comprehensive guide to do just that.
How to Build a Real Estate Photography Portfolio
Figuring out how to build a real estate photography portfolio can seem like a difficult task. Luckily, we've laid out the steps you can take to make it as easy as possible.
Don't let the question of how to build a real estate photography portfolio stop you from starting your career as a real estate photographer.
Ideally, you will want a real estate photography portfolio that has a minimum of 15 images (both interior and exterior photos) when you're starting out. If you can get more than 15 photos, that's great, but remember, this portfolio is a representation of your skill level.
The answer to how to build a real estate photography portfolio isn't to simply put together as many photos of houses as possible. Bad photos will not land you any jobs.
Quality over quantity is the way to go. I've been working as a Professional Real Estate Photographer for over 6 years and I only include about 35 images total in my real estate photography portfolio.
Now that you know what is needed in your portfolio, let's talk about how to build a real estate photography portfolio.
Head to a Nice Neighborhood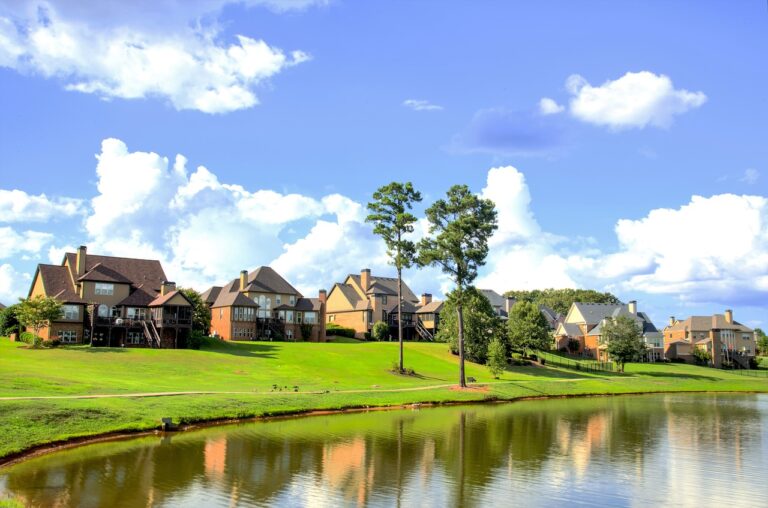 How to Build a Real Estate Photography Portfolio: Choosing the Right House
Think about which neighborhoods around you have the nicest homes. This doesn't mean just mansions, or the most wealthy neighborhood, but rather which area is always clean and appealing to the eye. That's where you want to start on how to build a real estate photography portfolio.
How to build a real estate photography portfolio will require a handful of good exterior photos. That's why you'll want to head to this type of neighborhood.
Also, and this is very important, make sure you choose a nice blue sky day to take the photos. There's no sense going out on a cloudy day. We want the best light possible.
The 3 things to look for when choosing an exterior photo for your Real Estate Photography Portfolio are:
Available Angles
Curb Appeal
Landscaping
Finding A Good Angle
We'll start with available angles since you'll be walking around in a residential neighborhood. If you're worried about homeowners getting upset, or getting questioned in general, there is no need to worry.
First, you are well within all your rights to take any photos you'd like from the sidewalk area of neighborhoods. It's considered public use area and you should feel free to click away as much as you like. This is an extremely helpful aspect of how to build a real estate portfolio.
Second, IF a homeowner were to question you, just be honest with them about what you are doing. I run a local Instagram and website in my city where I just walk around neighborhoods and post photos of exteriors.
Over the past 6 years that I've been running this account, I've only been questioned maybe 5 times.
Every time I explain that I'm a photographer that runs an IG account and then always say "You have such a beautiful home." This has worked every time and usually leads to a nice conversation about the homes history in one way or another.
So, now that you know you can feel comfortable photographing any home from the sidewalk, it's time to choose one! Since you'll be limited to shooting from around the sidewalk area and unable to walk on the front lawn, you'll need to make sure a good angle is available.
Make sure there are no trees blocking important elements of the house. Make sure any cars parked in the driveway won't ruin the shot. If the house is beautiful, but the angle isn't there, you're better off finding a different home.
Curb Appeal
We all know what curb appeal is when we see it right? It's the reason that the home grabbed our eye in the first place most likely. It can be the color brick used and the way it sits in its surroundings.
It can be a wrap around porch with a beautiful railing. Something that really make the home stand out. Those are the exact features you'll want to seek out and photograph.
Landscaping
The landscaping elements of a home are going to be extremely important as well. Trees that are too large and block the house itself are not what you need.
Look for the well tended gardens, the perfectly laid paths, and the freshly mowed lawns. You want it to look like real thought and effort was put into the landscaping features surrounding the home.
Find the homes that combine curb appeal and great landscaping, check for an available angle, and if you can find all 3 features, you'll have found your future portfolio image! Now you're well on your way to figuring out how to build a real estate photography portfolio.
Ask Your Friends and Family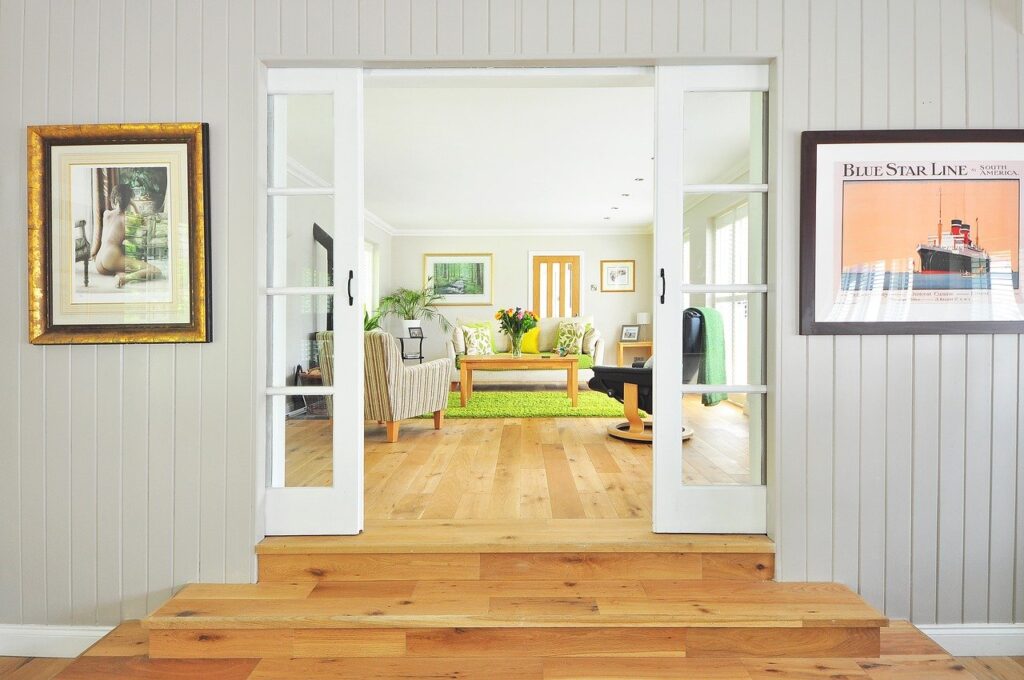 Getting interior photos can prove a bit more challenging than getting exteriors. Unless you live in a very large home, you're more than likely going to need to get into a least a few different houses. You'll want multiple houses for a few reasons.
First, you'll want multiple kitchen shots, and most homes don't have multiple kitchens.
Second, you want diversity in your photos. You want to show that you can photograph multiple styles of homes.
And third, you want your portfolio to show that you have already photographed multiple homes.
Since you need diversity in your portfolio, you'll need diversity in the homes you photograph. That's where your family and friends come in…
Don't assume that your portfolio needs to be only photos of the most beautiful homes. Realtors and possible clients aren't always selling the most expensive and amazing homes.
In fact, most homes aren't expensive and amazing, so don't get caught up thinking you need access to a really nice house in order to figure out how to build a real estate photography portfolio.
That being said, think about which family member or friend has a nice, well put together home. Reach out to them and see if they would let you come and photograph it. If they need some convincing, tell them that you'll clean all the rooms you photograph since you're going to stage the room anyway.
Once you find a willing person to let you photograph their home, make sure you stage the rooms properly. Photograph the kitchen, living area, master bedroom, and best available bathroom at minimum.
Check out our Real Estate Photography Staging Checklist to make sure that you stage the photos perfectly.
Most of the photos you take here will end up in your portfolio. If you have multiple friends or family members that will let you photograph their homes, you very well could have a full portfolios worth of photos right there.
If you aren't totally confident in your abilities to photograph interiors yet, check out this article I wrote featuring 5 Tips for Real Estate Photos.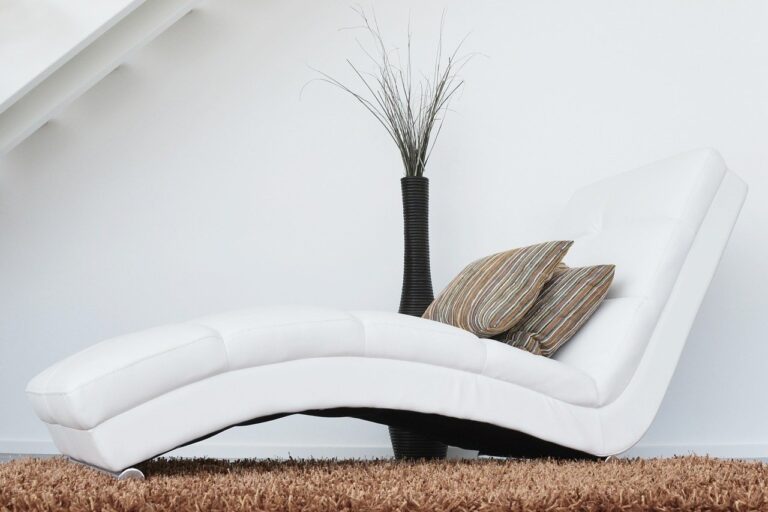 As a Professional Real Estate Photographer, it's important to NOT get caught in the trap of offering free or below value work. It hurts you and hurts the profession.
However, it's hard to convince someone to pay for your services without first showing them your portfolio. So, in order for you to get started in the profession, you may need to offer a few free shoots.
When thinking about who to reach out to with your free photography offer, consider the following things:
Who needs Professional Real Estate Photography?
Would the images you come away with be portfolio worthy?
Do you have the skills needed to photograph the property?
Who needs professional real estate photography?
The answer: A lot more people than you might think. Of course real estate agents need photography, and they are a great first place to start, but there are so many more options as well.
Think about a local business that works in the residential sector. Know of any interior designers that could use some better quality photography? What about a painting company that might want photos of their finished work? Or a furniture maker with a nice showroom? The possibilities are nearly endless.
When you do reach out, be honest and tell them you're looking to build your real estate photography portfolio and you'd like to offer them free, high quality images.
If they say no, don't worry about it. There are other businesses and real estate agents out there who will say yes. It's just about reaching out to the right ones.
Would the images be real estate photography portfolio worthy?
It isn't going to be worth your time and effort if the end images aren't going to be portfolio level quality. Playing off the painting company example from above, if the room they want photographed is simply a blank, unfurnished, white room, then it's not what you're looking for.
If, however, this painting company just finished painting a beautiful room with some detailed trim running along the ceiling and floor, well now that is probably worth it! Know what you are offering to photograph before you agree to giving out free images.
Do you have the skillset?
Since you're just getting your Professional Real Estate Photography career going, you may not posses the skills necessary to photograph a hardwood, cathedral ceiling living room yet, and that's ok!
You'll build your skillset over time. But, if you offer free photography and you put yourself in over your head, nobody will come out of that satisfied.
Ideally, you're going to offer free images, use them to create your portfolio, and impress a possible future client all at the same time.
If you bite off more than you can chew and come away with poor images and a burnt bridge, it probably won't be worth it. Keep it within your skillset, and save that cathedral ceiling for a time when you can really impress.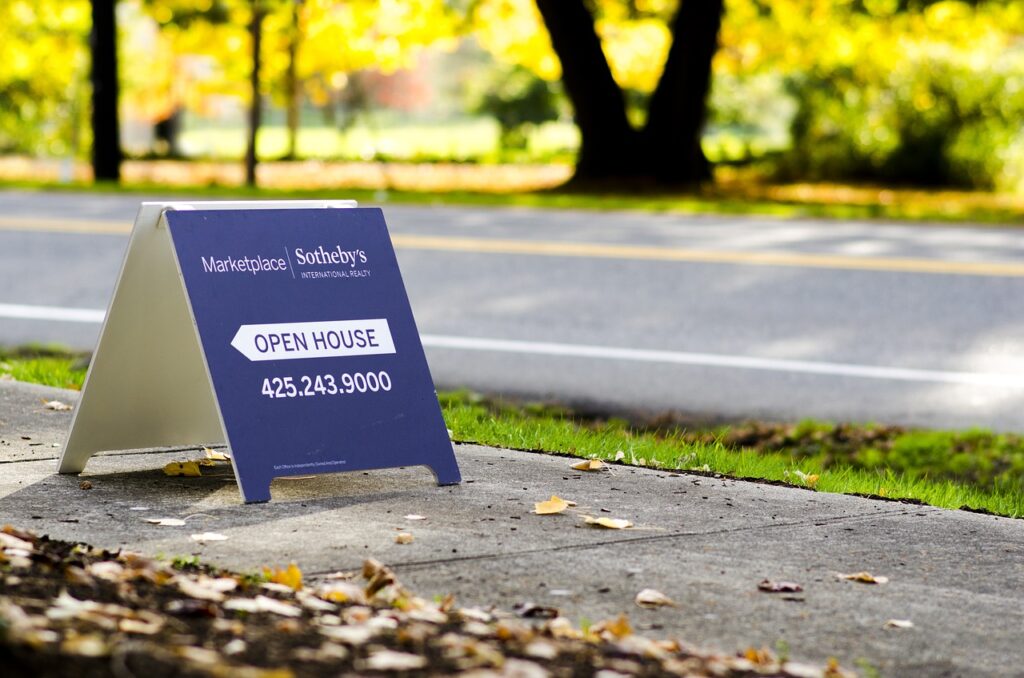 Realtors hold open houses all the time to get possible buyers in the door. Sometimes reservations are necessary, but for the majority of open houses it's an open door policy.
If you approach this situation correctly, you'll have the opportunity to get into and photograph some nice homes without needing to rely on your friends and family's homes.
How to find open houses
Luckily, finding open houses is the easy part.
Realtor.com
has a dedicated page that lists open houses in your area. You'll find it under their "Buy" then "Homes for Sale" tabs. 
Find a few that will offer you some great opportunities for portfolio level photos.
You're looking for nice kitchens and living rooms, unique architectural features, or any quality that will stand out in an image. Usually, there are already photos posted, so you can get an idea of the best angles and what the home has to offer.
Convincing the realtor to let you photograph the home
First off, if you need to make an appointment, try giving the realtor a call or sending them an email. Don't make an appointment and then show up with your camera. The realtor will not be happy that you decided to take up time in her schedule and have no interest in buying the house.
If no appointment is necessary, you can go about the situation in 2 ways:
Call the realtor and ask if you can come to the open house to take photos.
Show up and ask the realtor in person.
Whether you choose to call ahead or just show up, what you're going to say to the realtor is going to be generally the same.
Explain that you are looking to build your Real Estate Photography Portfolio, then compliment the house and how it's staged.
Politely ask if they would mind letting you come in and take a few photos.
Tell them that you would be more than happy to send them the images and allow them to use the images for marketing purposes.
Some realtors will give you a flat "no" right away, and that's ok. Understand that they are busy trying to make a sale and that open houses can be hectic.
If you do get a yes, make sure to respect any people that are viewing the home.
Hopefully, you'll be at the house and there won't be many visitors. But it's much more likely that you'll be photographing with people walking through the rooms.
Just take your time, allow people to take their time as well, and do your best to capture the shots you want in between.
Additional Resources on How to Build a Real Estate Photography Portfolio
Remember to put quality above all when you're building your real estate photography portfolio. When you have the opportunity to capture a portfolio worthy image, take your time and make sure you nail it.
Be sure to check out our Beginners Guide. It's full of articles with helpful ideas and tips exactly like this one. Our Business Resources page has all the resources you'll need to get your Real Estate Photography business started on the right path.
Finally, go check out our Gear page to get up-to-date reviews and recommendations on todays best gear for Real Estate Photography.
Frequently Asked Questions
How do you structure a photography portfolio?
Quality over quantity is the name of the game. Always lead with your best images and try to show a diverse mix of photos. Make sure they are displayed in an eye catching way and are easy to access.
How much do real estate photographers make per shoot?
The answer depends on where you work and what services you offer, but generally speaking a real estate photographer can make anywhere between $100 – $500 per shoot.
How can I make my real estate pictures look professional?
One of the best ways to make your real estate photos look professional is to use editing software. Learning how to properly edit photos can greatly enhance the image quality.
How do you become a real estate photographer?
How to Build a Real Estate Photography Portfolio