Headshots for Real Estate Agents
Offering headshots for real estate agents is a great way to increase the amount of services you offer, your income level, and your potential client list. It's a simple addition to the list of services you can offer to professionals in the real estate industry and not a hard skill to learn.
Headshots for Real Estate Agents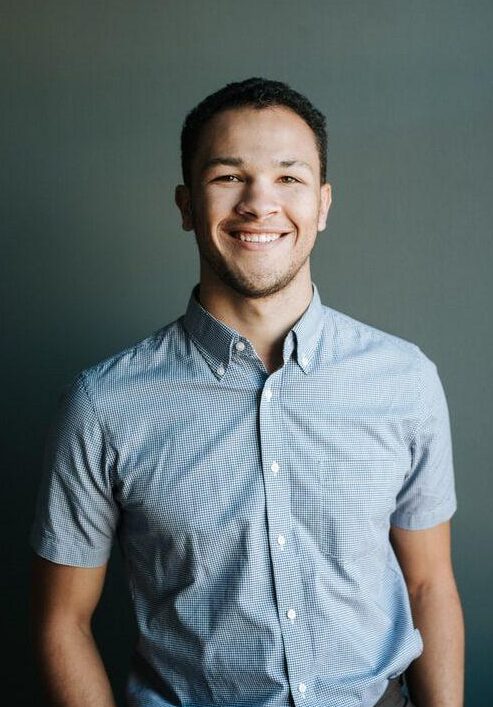 In order to offer headshots for real estate agents as a service, there are a few things that you're going to need to know:
How to capture headshots for realtors
How much you should be charging for your skill level and market size
How to leverage offering headshots for real estate agents as a business building strategy
Once you know how to capture quality real estate headshots and are charing the appropriate amount, you can really start to open up new doors in terms of future business opportunities.
Headshots will either be something that a realtor you already work with might purchase from you or they could serve as an introduction to new realtors that will hire you for real estate photography in the future.
All real estate agents need headshots. They need to market themselves as intelligent, confident, and capable professionals that potential buyers and sellers should trust with the largest purchase they're going to make in their lives.
In order to portray all these qualities, they need to have images of themselves that are expertly captured using great lighting techniques. That is where we as professional real estate photographers enter into the equation.
We already have the equipment necessary to capture headshots for real estate agents, so all we need is the knowledge of how to take the photos and how to price them properly. Below, you'll find out how to do both of these things plus why you should start today.
How to Capture Headshots for Realtors
The first step is understanding how to capture real estate headshots. You have the camera, the lens, the flash, and it's very likely that you have a good understanding of general photography already.
Much like with real estate photography (and most other genres of photography as well) it's all about the lighting. The better you can light headshots for real estate agents, the better the photos will look.
Using a bright window with lots of natural light plus a flash is really all you need to properly light a headshot. Add in a few poses and make sure the realtor dresses well and you will be well on your way to producing beautiful headshots for realtors.
For a complete guide on how to capture high quality headshots for realtors, check out this article: How To Take Real Estate Headshots
Headshots For Real Estate Agents: How Much To Charge

This is probably the question that all of us struggle with the most in photography… how much should we charge? Well, the answer is that it depends on your skill level and the size of your market.
If you're just getting started and don't have a headshots portfolio yet, you'll likely have to charge a bit lower in the beginning. Once you have a quality portfolio to display you'll be able to charge $100+ for each headshot, depending on your market size, obviously.
For a complete guide on how much you should be charing for headshots for real estate agents, check out this article: How Much Do Real Estate Headshots Cost?
Using Headshots For Realtors To Network In The Real Estate Industry
Once you start to fully incorporate headshots for real estate agents into your work, you'll eventually meet realtors that don't already hire you for real estate photography but want to hire you for their headshot.
This is an incredible introduction to a possible client. If you deliver a good headshot and show them that you run a good business, there is a good chance they will hire you to photograph the houses they're selling as well. 
Capturing headshots for real estate agents both makes you more money and lands you more clients. Eventually, you'll receive recommendations by realtors you work with for headshots for other realtors they know.
You client list will grow if you start taking quality headshots and give it enough time. An entire real estate firm may have you come in to photograph all their realtors that need headshots. Thats a lot of face-to-face introductions with possible clients.
If you want to offer headshots for realtors as a service but are really having trouble with how to capture them properly, we highly recommend this course from Udemy: Portrait Photography Masterclass: Headshot Photography
You'll find more helpful articles on real estate photography, as well as other types of photography, in our Beginners Guide. It's full of articles with helpful answers exactly like this one.
Our Business Resources page has all the resources you'll need to get your Real Estate, Interior Design, or Architectural Photography business started on the right path.
Finally, go check out our Gear page to get up-to-date reviews and recommendations on todays best gear for Real Estate and Architectural Photography.
Frequently Asked Questions
What should I wear to a real estate headshot?
You should wear exactly what you would normally wear when meeting a client at a house you are hoping to sell. Business casual is very common.
What color is best for headshots?
Neutral colors are good for most headshots. You want to be appealing to the largest amount of people possible.
Should you smile in a headshot?
Absolutely. You're supposed to look friendly and inviting in a headshots. Smiling is necessary.
Headshots for Real Estate Agents